Welcome to the BEDROC MMA Homepage!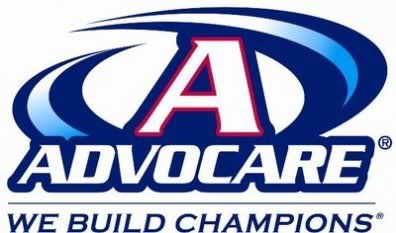 The Mixed Martial Arts culture has exploded into one of the fastest growing sports in the World. But Mixed Martial Arts is nothing new for BEDROC Martial Arts. Sensei John Farrar has mastered several forms of martial arts and provides the expert instruction needed to succeed in the sport. BEDROC Martial Arts does not just "Say" we are the "Best", we prove it! We prove it where it counts, through our Competition Record. BEDROC proves it is the most successful competitive school in the area at every event we attend. We host our own grappling events, and have produced multiple American and Canadian National and Jr. Olympic Judo Champions every year since 2002. Although we believe the success of an Academy is shown through the accomplishments of it Students, our Judo Instructors include Jr. and Sr. National Champions as well as AMCAN and Pan American Masters Champions. Our MMA Instructors include actual active Pro Fighters and a former MMA Cruiser Weight Title Belt Holder. Our Brazilian Jiu Jitsu Instructors have been at the Top of the Podium at the Pan American "No Gi" Jiu Jitsu Championships, the Rio Open and the Srs. & Masters Championships in Rio de Janeiro, Brazil so they understand how to "Make it Happen". BEDROC is the only MMA school in this area that houses 3 Judo Blackbelts and 2 Brazilian Jiu jitsu International Champions. We are also recognized by the IBJJF, the National Governing Body for Brazilian Jiu Jitsu, as having an authentic BJJ Program and an Officially Recognized Ranking system in place.


Don't be fooled by the hype. If you want to Train and Win with the Best, come check out
BEDROC Martial Arts
The martial arts grouped together as a whole are not just for fighters only however. Many people are turning to the MMA training styles to improve their health, increase their endurance, lose weight, gain muscle and strength, learn self-defense tactics or simply to feel better about themselves. Browse the site to learn more about us, our facilities and instructional staff or contact us for more information.
Announcements
JUDO - AMCAN INTERNATIONAL CHALLENGE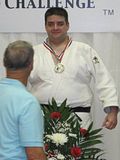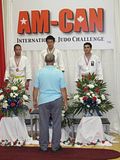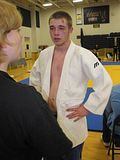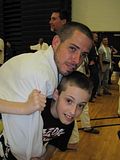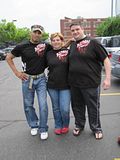 The Young Judo Team did very well under the coaching of Senpai Jenn at this long standing event. Big Congrats to Sensei D'Jay taking Silver in the Masters Black Belt Division proving that you can train and train them !!!.... Also, great Job goes out to Buttons Knoepfler and Tyler O'Neal who put it out there and did great both getting 4th. NICE GUYS !!
RESULTS
Sensei D'Jay Kelly
- Silver Medal
Bradd Quinn
- Bronze Medal
Derek O'neal
- Bronze Medal
BORDER BRAWL 3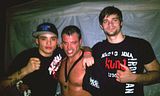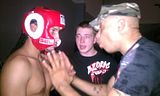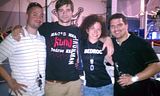 The Results are in for "BORDER BRAWL 3" Kickboxing at HotShots

** Here's how it went down on May 21, 2011 **
Mike LaDuke
- Winner by Unanimous Decision
Michael Gsellmeier
- Winner by Unanimous Decision
Jose Fonseca
- Winner by
Knockout
(1 min 25 seconds into the 2nd round)
Brandon "Rhino" Twamley
– Winner by
Knockout
(25 seconds into the 3rd round)
BEDROC NOW OFFERS STREAMING ONLINE

"Skype Training"
Check it out on the TUITION PAGE
Having problems getting to the Academy..... Talk to one of the Instructors, you may qualify for Skype, Meebo or Qik lessons, all you need is a computor and and internet connection and you can watch or participate from your own home, on vacation or any other time you just cant make it to Class.
PAGELS BJJ / MMA Certified Instruction
Staff and students of BEDROC Martial Arts have the distinct pleasure and advantage of having a direct link to authentic Brazilian Jiujitsu Masters in and from the birth place of BJJ, Brazil. Sensei John Farrar oversees the day to day Brazilian Jiu-jitsu, Judo and Submission Grappling instruction at BEDROC. Sensei John is a certified Brazilian Jiujitsu Instructor and has over 35 years "in the Game". John is a successful Competitor as well as an accomplished and charismatic teacher. Sensei John's instructor and friend is World and International Champion Master Paulo Wesley, who is also the head of several "Pagels" Jiu-Jitsu and Mixed Martial Arts Teams in Rio de Janerio, Brazil. "Professor Paulo" is currently Living, Training and Teaching in Rio and personally promoted Sensei John Sr. and Sensei John II "On the Podium" after their wins at the International Masters and Seniors and Rio de Janerio Open Championships while training in Brazil. Master Paulo was awarded his Black Belt from 9th Degree Red Belt Grand Master Francisco Mansur, head of Kioto BJJ. Grand Master Mansur is the founder and owner of "Academia Kioto de Jiu-Jitsu," one of the most traditional and successful Jiu-Jitsu schools in Rio de Janeiro, Brazil. He is very proud to be one of only six men outside of the Gracie family to be granted a professor's diploma directly from none other than 10th Degree Red Belt, Grand Master Helio Gracie.
Featured Martial Artist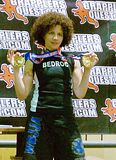 KITTY TERESI


Featured Martial Artist
This BEDROC Warrior defines the word "MOTIVATION". Due to her long commute from NEW JERSEY during the month she still competes in every Grappling Competition she can, both Gi and No Gi. Although Kitty has mimimum training opportunities, she maximizes her training time she says by entering competitions to practice and get some "Arm Hunting" time in. Kitty is a Green Belt here at BEDROC MMA and a Black Belt in Tae Kwon Do in New Jersey. Her most recent tournament was the Grapplers Quest National Championships where she secured TOP HONORS in hers and the Womens Absolute Divisions.

Featured Video